If you are hearing snippet for the first time, don't be in shock, take it as another word you will need to spend the next couple of days or week learning more about because of your online business. As easy as they look, online business takes more resources to be successful especially in the marketing side of it. I know you are no stranger to SEO, Organic traffic, and many other digital marketing terms; now you need to add Google rich snippet or featured snippet to your digital vocabulary.
What do Google rich snippet or featured snippet mean?
Imagine someone searching for your niche on Google, and your site comes up as a featured result among other sites, what is the possibility that your site will be clicked?
There are millions of results in a single search, while every site is in SEO war to rank higher and make the first page of Google search result page, Google featured snippet or rich snippet are positioning you as a featured site for the search which automatically brings your site as the first site in SERP!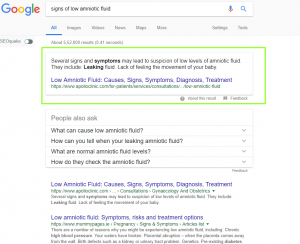 Therefore, snippets are a search engine result that was extracted and presented top of the listed result. This means that the result of the search will appear in a snippet above the result page. Snippets are of three types: Paragraph snippet, List snippet, and Table snippet.
When you hear Google rich snippet or featured snippet, these terms are used interchangeably to refer to the snippet.
Google rich snippet or featured snippet bring a new dimension into site ranking beyond appearing on the first page of SERP to increase organic traffic to becoming a featured site in a search result to boost the click-through rate (CTR) for your content.
Why you need to learn about Google rich snippet or featured snippet
I often tell anyone who cares to listen that digital marketing is a lifelong activity. I say this because there is no ending to what you need to learn. But my advice to site owners or anyone in online business is to understand the different possibilities to increase their stake in winning more traffic and attracting prospective customers and making sales. Your business is not to learn how to do these stuff unless you want to leave your primary business unattended. Once you know what you want, there are experts whose job is to handle it for you.
What are the advantages of Google rich snippet or featured snippet?
Increased traffic. If you are looking to boost your organic traffic, snippet delivers powerful CTR!
Enhance website authority. Internet users want a website they can trust to have what they want and to have your site display the answer to their search will make them think your site is authoritative.
Boost your marketing activity. The result is all that matters in marketing. When your click-through rate increases, your marketing will pay-off.
How can you get Google rich snippet for your website?
To feature your site as a snippet is the exclusive preserve of Google. While you can't rank your site for Google featured snippet, there are steps you can take to make your website a candidate anytime soon. The following tips will help you.
Rank your site on Google first page. To qualify for Google rich snippet, you need to be a Google first page contender.
Be strategic in your content writing. A study shows that most featured content are those who have well-written questions and answers in their articles. Create H2 or H3 tags using questions in your articles.
Plan your target keyword. To make the first page of Google you need well-researched keywords, the same is expected for a snippet.
Use 'priming phrases' in your article. A means of increasing your chances of being used in the snippet is to use priming phrase such as 'Here are the essential elements' 'Follow these steps' etc. to introduce your answer in your article.
Getting featured snippet is a matter of strengthening your organic marketing strategy using quality SEO articles that will rank you on the first page of Google.